We are all here because we strongly believe that everyone has the right to receive exceptional oral health care. Every member of our team brings unique skills and strengths, and we all work closely together so that your care is seamless and efficient. We're proud of the supportive environment we've created and are committed to always going above and beyond to exceed your expectations.
Dr. Polina Simanovich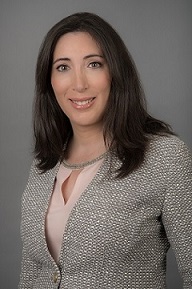 Dr. Polina Simanovich received her bachelor's of science degree in biochemistry from Union College in Schenectady, NY. To further her dental studies, she undertook a Post-Baccalaureate research fellowship at the prestigious National Institutes of Health in Bethesda, MD.
Dr. Simanovich earned her dental degree from the University of Connecticut School of Dental Medicine and continued her specialty education through a vigorous three-year postgraduate training in Prosthodontics at UConn. Prosthodontics is one of nine specialties recognized by the American Dental Association and focuses on replacement of damaged teeth with restorative procedures.
During her training, Dr. Simanovich also gained tremendous knowledge and skill in surgical placement and restoration of dental implants. Her focus lies in providing the best care to her patients through a successful esthetic and functional outcome. She lives by the motto, "Do what you love, and love what you do."
Dr. Simanovich is grateful for her family that she cherishes in every sense of the word. From every day activities to the experiences they create together, she values quality with her husband and children to the nth level. In her free time, Dr. Simanovich also enjoys music, writing poems, playing piano, playing tennis, and spending time outdoors. She is a member of the following professional associations.
American Dental Association
American College of Prosthodontists – Board Certified Fellow
American Academy of Fixed Prosthodontics – Fellow
Greater New York Academy of Prosthodontics – Postdoctoral Affiliate
Hartford Dental Society – Member and Vice President
Connecticut State Dental Association
Dr. Nicole Mancini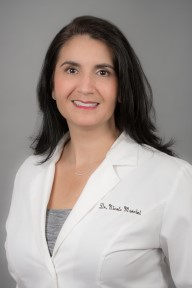 Dr. Nicole Mancini graduated from the State University of New York, Buffalo, School of Dental Medicine in 1999. Upon graduation, she completed a General Practice Residency program at Saint Francis Hospital and Medical Center in Hartford, where she acquired knowledge and experience in complex restorative dentistry and management of special-needs patients. Dr. Mancini takes much pride in helping those who come to see her reach optimum oral health. She continues to provide exceptional care with a compassionate and gentle touch.
Dr. Mancini has experience with the most contemporary techniques and technology for comprehensive dental care. She considers the entire masticatory system and looks to solve the underlying cause of cosmetic and functional dental concerns. Dr. Mancini takes time to listen to the needs and goals of her patients and will educate them on all of their treatment choices. She can offer a full aesthetic or conservative approach to dentistry. Dr. Mancini's gentle nature will put you at ease, and her experience and attention to detail will assure you that you are in good hands.
Dr. Mancini resides in Middletown, CT with her husband and three children. Dr. Mancini loves cooking for her family, spending time outdoors, reading, and traveling with her family.